Curry Leaf Rice and Masala Vadai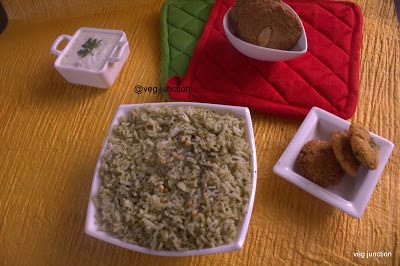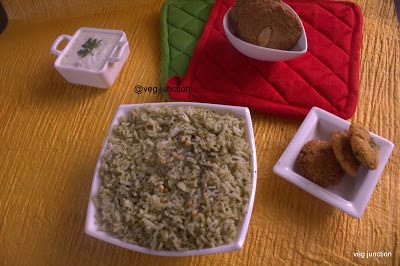 Hi
Planning a proper lunch an preparing it needs a lot of patience and I am extremely short on this. It is just not the one meal lunch that you need to prepare, I have to think so some way to satisfy my daughter's short break hunger pangs too:-)Some days i make sundal or cake, salad and for today it is cookies:-)…dunno what to do for tomorrow though…..Ah!!!!I need a menu planner……….:-(
Well today it was Curry leaf rice, Masala Vadai, coconut raita and Almond cookies
INGREDIENTS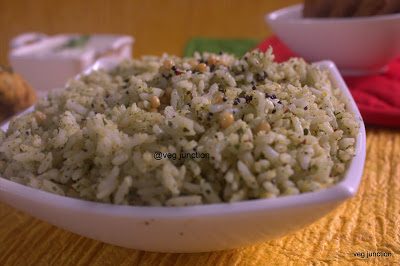 Raw rice 1 cup cooked in 2 cups of water
Oil 1 tbsp
Mustard seeds 1 tsp
Black gram dhal 1 tsp
Asafoetida 1/4 tsp
To be powdered
Black gram dhal 1tbsp
Bengal gram dhal 1 tsp
Red chillies 6-7
Pepper 1/2 tsp
Curry leaves 1 cup
Oil 2 tsp
PREPARATION
Cook rice in water . Spread on a plate and let it cool.
Heat 2 tsp oil in a pan and roast Black gram dhal , Bengal gram dhal, chillies, pepper till the dhal starts to brown. Now add the curry leaves and fry it for only 2 minuts. Switch off the fire and let it coll.
When it has cooled completely transfer this to a mixer and add the necessary salt and powder it.
Sprinkle 3-4 tbsps of the ground powder on the rice and mix well. Add salt if necessary
Heat a pan with 1 tbsp of oil and add the mustard seeds. When it begins to crackle add the black gram dhal and asafoetida and fry till the dhal starts to brown.Add this tempering to the mixed rice
Serve with Raita/Paapad/vadai
This Menu goes to Blogging Marathon#10 by Srivalli.
My Menu for today was
Curry leaf rice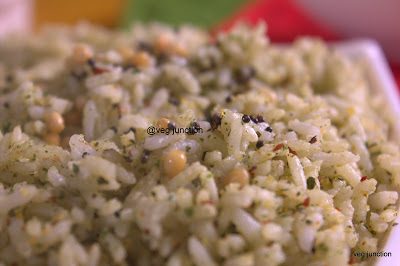 Coconut raita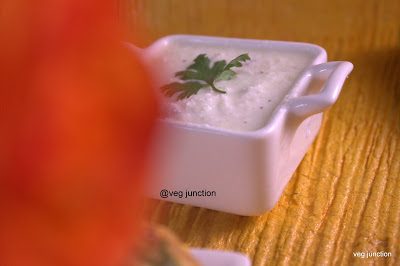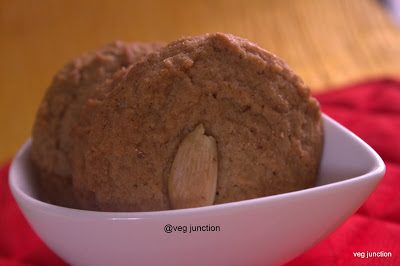 Check out the marathoners here