CARROT MUTHIA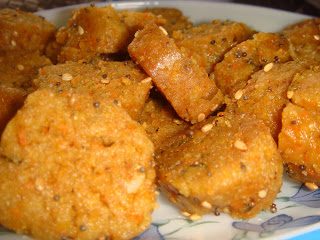 Hi
back with another post for a challenge.This time it is about carrot and i was speaking to my daughter about it, and she did not show any great interest to know as to what i would be cooking. It is not that she dislikes carrot, actually she loves to have fresh, shredded but not cooked……….
I wasn't sure what to do when my sister who is very passionate about cooking came to my rescue. She said try replacing dhoodhi with carrot in the muthia recipe and your daughter will love it. Well, though a little apprehensive , i immediately did it , looked perfect but i had to wait for that "perfect" word from my daughter who wasn't home. When vibha finally arrived and tasted it she said"MOM……IT'S AWESOME:-)"
AND HERE IS THE PERFECT RECIPE FOR THE VEGETABLE MARATHON- CARROT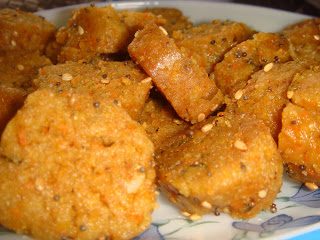 1. Atta 1 cup
2. Rava 1/2 cup
3. Gram flour 1/2 cup
4. Carrot finely shredded 1 cup
5. Ginger garlic paste 2tsp
6. chilli powder 1tsp
7. dhania powder 2tsp
8. jeera powder 2tsp
9. garam masala 2tsp
10 saunf powder 1 tsp
11. lemon juice 2tsp
12. salt to taste
13 sugar 1tsp
14.coriander cut finely 2tbsp
15. Mustard seeds 1 tsp
16. Sesame 1 tsp
Mix all the ingredients in a bowl into a dough like consistency. Generally the vegetable added will give the necessary moisture content. But if the carrots are not juicy enough ,you can add few tsps of water and knead the dough(like chapathi dough).
Now roll them into one inch diameter cylinders and steam them for 10 to 15 minutes, till done. cool these cylinders and cut into thin discs.
In a sauce pan add 2tsp oil, add mustard seeds and sesame seeds. When they splutter add these muthia discs and fry for few minutes.
Carrot muthia is ready…….
Serve them warm with sweet chutney.
I would say that this is a healthy snack with all the goodness of carrot in it.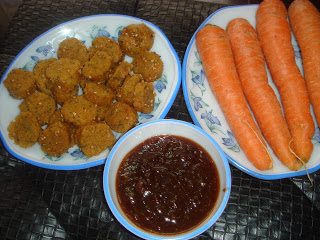 I am sending this to Padmajha of Seduce your taste buds 'Vegetable Marathon- carrot' for the vegetable marathon – carrot which was started by SHILPA OF ANITA'S KITCHEN. Do have a look at the other carrot dished that are being dished out…….