Eggless Blueberry Muffins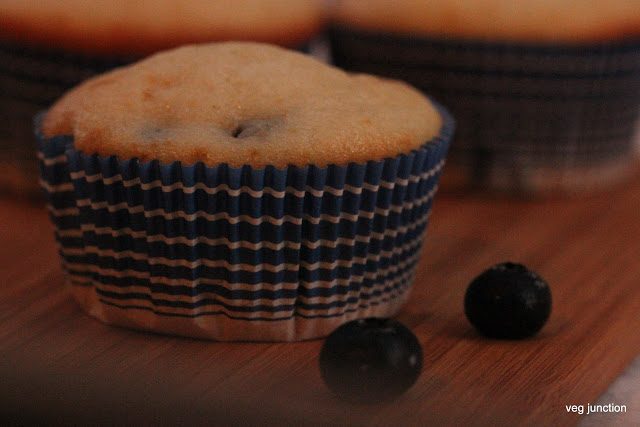 Hi
When I joined Bake-a-thon, I planned to bake every alternate day but it just didn't happen. I had some health issues and could not blog for about a week and back with another eggless muffin recipe.
Blueberries are very rare in chennai and pricey too. But i did indulge in a pack to bake these yummy muffins
INGREDIENTS
Recipe Source: Raks Kitchen
All purpose flour 1 1/2 cup minus 3tbsp
Cornflour 3tbsp
Blueberries 1 cup
Yogurt 1 cup
Oil 1/2 cup
Sugar 3/4 cup
Baking Powder 1tsp
Baking Soda 1/2 tsp
Vanilla essence 1/2 tsp
PREPARATION
Wash the blueberries and dry them. Mix them with 1 tbsp of flour and keep aside
Place the muffin liners in the muffin tray
Preheat the oven to 180C
Sieve All purpose flour and corn flour
Mix yogurt and sugar in a bowl
To this add the baking powder and baking soda and let it rest for 2 minutes
When it starts to froth up add the oil and vanilla and mix well
Now add the flour mixture 1tbsp at a time and mix well
Now add the blueberries to this mixture and mix well
Spoon the batter in a prepared muffin tray 3/4th its height
Bake for 18-20 minutes or till the skewer comes out clean
Cool on a wire rack and then enjoy these delicious muffins!!!!!
Check out what these bakers are upto
Champa
Srivalli
Priya
Preeti
Sumana
Jaishree