Eggless Christmas Fruit Cake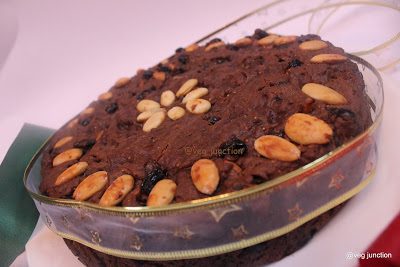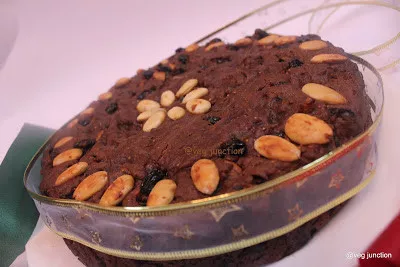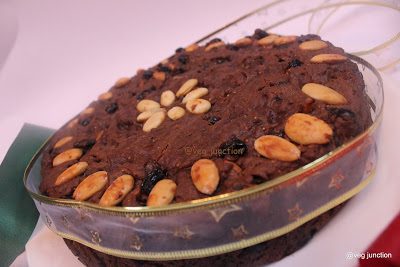 Baking all types of cakes and cookies for this Bake-A-Thon and how could i not bake a fruit cake!!!!!!The first time that I baked with this recipe was an year back. Before even I could click the pics, the cake was gone, so scheduled the post for Christmas this year!!!!!!. The dry fruit, the butter sugar mixture, the flavour of spice…hmmmm….too good.Without much delay let me write down the ingredients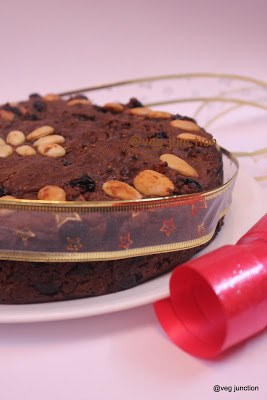 INGREDIENTS
For the Wet fruit Mixture
Butter 1 cup
Demerara Sugar 1 cup
Golden syrup 2 tbsp
Golden Raisins 100 gms
Black Raisins 100 gms
Apricot 100 gms
Cranberries 50 gms
Figs 50 gms
Water 1 cup
Cashew 50 gms
Walnut 50 gms
Baking Soda 1 tsp
Mashed Potato 1 cup
All spice powder 3/4 tsp
Vanilla 1 1/2 tsp
Yogurt 2tbsp
Milk 2 tbsp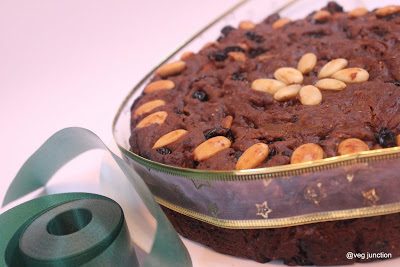 For the Dry Mixture
All purpose flour 2 cups
Baking Powder 1 1/2 tsp
Baking Soda 1/4 tsp
PREPARATION
Boil the potatoes , cool mash and keep it aside
Grease an 8″ round cake tin. Line it with butter paper, grease the paper too.
Mix all the dry ingredients in a bowl and keep aside
In a saucepan combine the dry fruits, butter, sugar, syrup and water. Cook on a very low flame till the sugar dissolves completely.Now raise the heat and let the mixture come to boil. Reduce the heat again to low and let the mixture simmer for 20 minutes. Switch off the heat and add 1 tsp baking soda to this. Mix well and keep it aside to cool.
Once the mixture cools, add the yogurt, vanilla, all spice powder, zest and mashed potato. Whisk well till the mixture comes together and is smooth.
Now put the nuts in and mix well.
Fold in the flour mixture.
I felt the mixture was a little dry at this stage, so added 2 tbsps of milk to this.
Transfer this to the greased baking mould. Arrange the blanched almonds on the surface,Cover with an aluminum foil, Bake for 1 1/2 hr -2 hr or till a skewer inserted in the middle comes out clean
This is the best Eggless fruit cake that i have ever baked.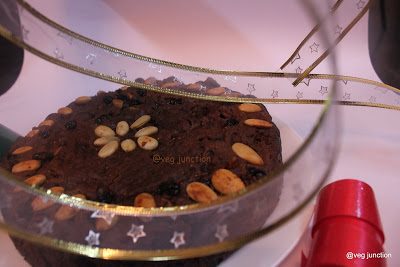 Thank you Anushruti once again
Enjoy this CHRITSMAS WITH THIS WONDERFUL CAKE
"MERRY CHRISTMAS '
HAVE FUN:-)
Linking this with eggless baking for Blogging Marathon#11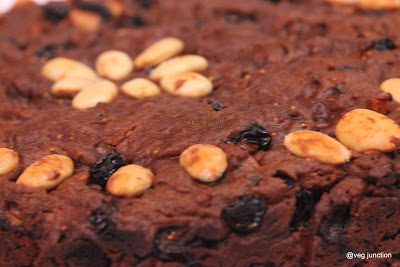 Linking this to Bake -a- thon with these lovely bakers
CHAMPA
PRIYA SURESH
Preeti Deo