Jhatpat Pancharatna Dal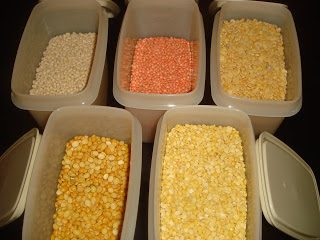 Hello everyone
I am newbie in food blogging.I love to cook and try out lot of new dishes and in the search of these dishes i came upon so many wonderful food bloggers from whom i have learnt a lot.I came across many events and challenges and am inspired to take part in these events.so… off to my very first recipe:-)
This is a pretty easy and tasty Dal to make in a jiffy in a microwave.The condition for taking part in this event is that the recipe has to be prepared entirely in a microwave.
INGREDIENTS
Arhar dal 1 Tbsp
Gram dal 1 Tbsp
Urad dal 1 Tbsp
Greengram dal 1 Tbsp
Masoor dal 1 Tbsp
Red chillies 2
lemon 1
cloves 2
cinnamon small piece
Tomato 1 diced into small pieces
Green chillies 3 to 4 cut into small pieces
ginger shredded into small pieces
garlic 2 pods cut into tiny bits
garam masala 1tsp
coriander
curry leaves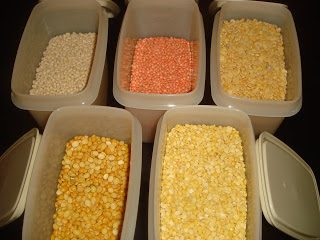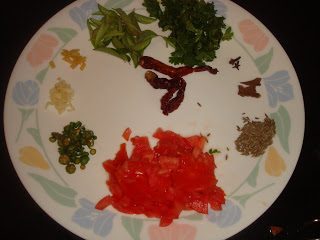 This is how i adapted the dal recipe to micro mode….
1.Soak the dals together in warm for 10 to 15 mins.
2.cook in high in microwave for 12 mins or 15 mins maximum.


this has boiled really well:-)
3. In a glass dish/micro safe dish, add oil,cumin seeds,red chillies,cloves, cinnamon and fry it in high mode for 1 minute.
4. add cut tomotoes ,green chillies , garlic , ginger, curry leaves and again saute for 1 minute.
5.Add the dal mixture to it, garam masala for that extra flavour and add salt to taste.
cook in micro high for another 2 minutes.
6.garnish with coriander and squeeze the lemon for that tangy taste
jhatpat tasty dal is ready:-)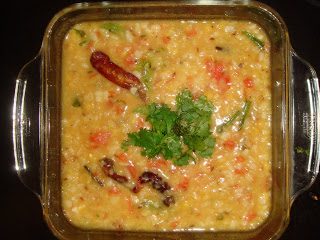 I am sending this entry to MEC-Delicious Dals hosted by Kamalika started by Srivalli.
Do try this out and am sure you will like it. Head to SRIVALLI'S blogand KAMALIKA'S BLOG for yummy recipes…….
till then happy cooking:-)