Inji Rasam/Ginger Rasam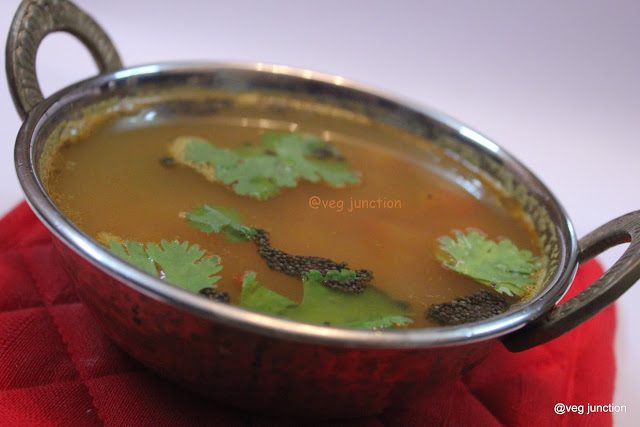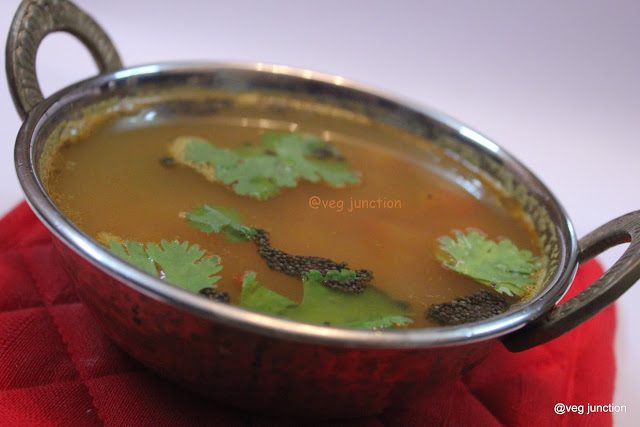 For the seventh day of Blogging Marathon, I ran out of ideas for rasam varieties and just then my SIL came to my rescue;-)When we met their family the other day for dinner ,she was asking me about this marathon and then suggested that I should try this out.Faithfully I did try and I must say that this is one flavourful rasam. Loved the mild flavour of ginger in it.
INGREDIENTS
FOR THE DAL
Tuvar dal 1/4 cup
Water 1/2 cup
Turmeric powder 1/4 tsp
Oil few drops
FOR THE RASAM
Tomato 1
Red chillies 2
Pepper 1/2 tsp
Ghee 1tsp
Ginger 1/2″ piece
Turmeric powder 1/4 tsp
Curry leaves few
Coriander leaves 1tbsp
Lemon 1
Asafoetida 1/4 tsp
FOR TEMPERING
Mustard seeds 1/2 tsp
Oil 1 tsp
PREPARATION
Cook the dhal with water, turmeric powder and oil till soft. Cook it in pressure cooker upto 4 whistles
Heat a pan with ghee.Fry the red chillies and pepper in it. Cool it and powder it finely
Boil the dal with enough water in a pan. Add the cut tomatoes,turmeric powder and cut coriander to this and boil well
Now add asafoetida and chilli-pepper powder and mix well. Now lower the flame so that the rasam mixture does not boil. It should only heat up for 5 minutes.
Add the curry leaves and coriander and switch off the fire.
Meanwhile grind the ginger with a little water. Strain this and reserve the ginger juice.
Add the ginger juice to rasam and mix well. Heat for 2 minutes.
Switch off the heat and squeeze the lemon. Keep it aside
Now heat oil in a kadai and add mustard seeds to it. Once it splutters add it to the hot rasam
Now squeeze the lemon juice in it.
Serve hot with rice and curry
Mix well and serve with hot rice and curry
Check out the Blogging Marathon page for the other Blogging Marathoners doing BM#13
Thank you Lashmi Manni for this wonderful rasam…very tasty!!!!!