Mochai Curry /Field Beans Curry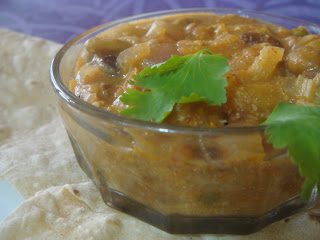 When you see these fresh legumes in the local market it is hard to resist and ignore them. Yet again i bought Mochai. This time it would not be Thavala adai but curry. This is definitely one of the best protein packed subzi's that i have cooked so far.
INGREDIENTS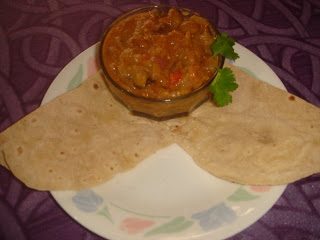 Mochai /Field beans 2 cups
Onions 3
Tomato 3
Turmeric powder 1/2 tsp
Chilli powder 2 tsp
Coriander Powder 2 tsp
Cumin powder 2 tsp
Garam masala 1 tsp
Tamarind small marble size
OIL 1 tbsp
Cumin seeds 1 tsp
Salt to taste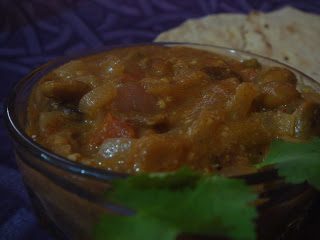 PREPARATION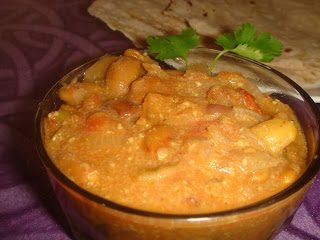 Pressure cook the fresh beans till well cooked( i kept it in the pressure cooker up to 3 whistles)
Finely dice the onions and tomatoes
Soak the tamarind in minimum water , squeeze to get tamarind paste.( i microwave the tamarind in minimum water for 30 seconds and then squeeze it as a paste)
Heat oil in a pan and saute the cumin seeds
Now add the cut onions and saute it till it turns golden brown
Add the tomatoes and saute for 5 more minutes.
To this onion tomato mixture add turmeric, chilli, coriander, cumin, garam masala powders and saute further till oil separates,
Add the tamarind paste to give the required acidity. Cook for 5 minutes till the raw smell of tamarind vanishes (approximately 5 mins)
Now add the cooked beans with the salt, close with a lid and let it simmer till everything comes together.
Garnish with cut coriander
Serve warm with chapati, pulka, or any other Indian flat bread
This is a very tasty healthy dish. At home here everyone loved it. Do give it a try and am sure you will love too:-)
Sending this tasty curry to MMLA#30 hosted by Priya of Mharo Rajasthan and started by Susan