Rasgulla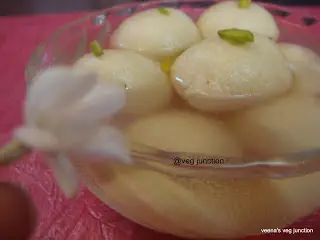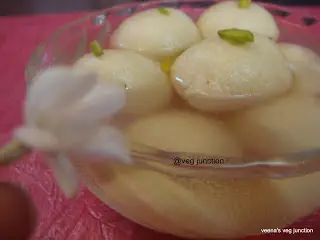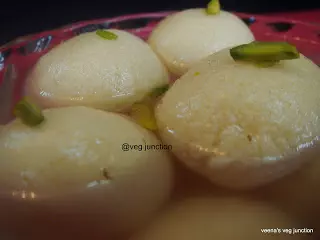 Hi
When Aparna of announced the challenge to make Rasgulla/Rasmalai for this month 4 VELVETEERS challenge , i was very happy. I love Rasgulla…yum, after my disastrous first attempt few years back, never attempted to try them out again.This time i adapted the recipe from Raks kitchen. Came out just perfect.
INGREDIENTS
Full cream milk 1 lt
Lemon juice 3 tbsp
Sugar 2 cups
Water 3 1/2 cups
Cardamom powder a pinch
PREPARATION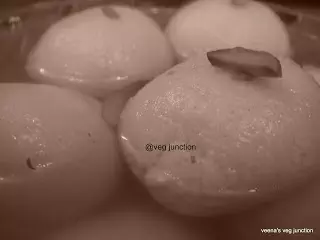 To make the paneer i find microwave is easier and faster
Pour the milk in a microwave safe bowl
Boil the milk for 10 minutes. Take out the cream formed and boil it for 1 more minute in MICRO HIGH MODE
Take it out.Squeeze the lemon into it. Mix well.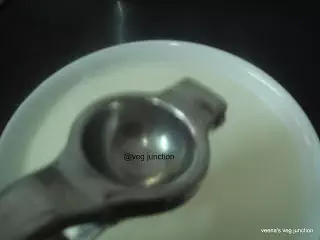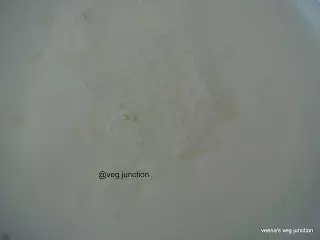 You can see the whey separate.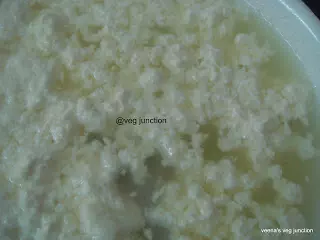 Now Arrange a stainer on a vessel and spread a cotton cloth on it.Pour the paneer formed and remove the whey. Store this for further use.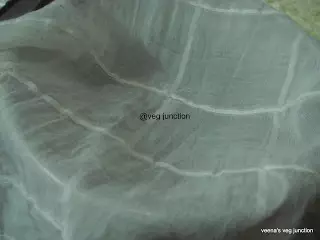 Pour running tap water onto this to remove the sour taste due to the lemon used.
Tie the cloth and let the water drip for 1/2 hour

After 1/2 hour, the paneer looks a little crumbly like this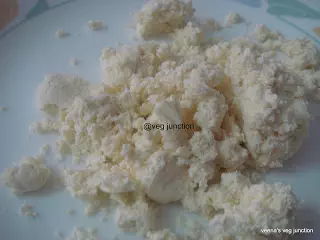 Knead it for 10 minutes into a pliable dough.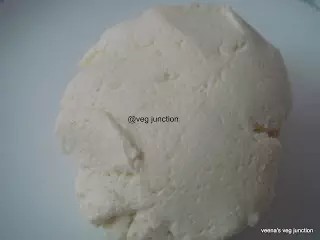 Make small balls and keep it aside.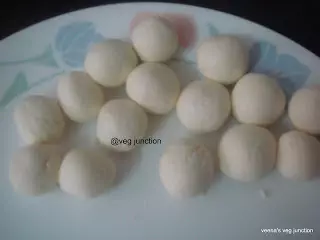 In a Pressure cooker add the sugar, water and cardamom powder.Boil it on a low flame till the sugar dissolves.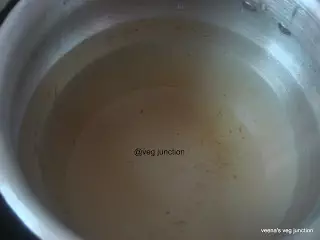 Now put the paneer balls in it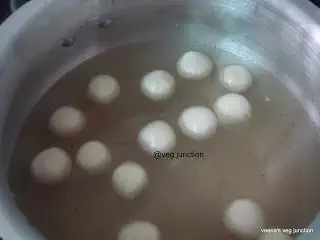 Close the lid and when the pressure build, put the weight on and let it cook for 1 whistle. Then simmer it for 5 more minutes in a very low flame. Switch off the stove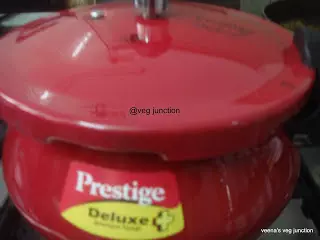 When the pressure is released you can see these soft yummy rasgulla's ready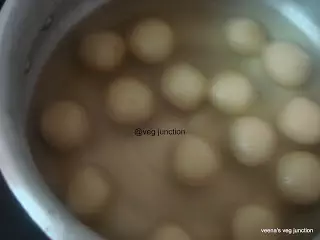 Can you resist these……..?I could not.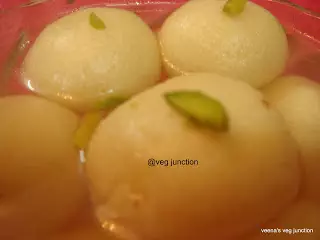 Thanks Aparna for the wonderful challenge.
Thaks Rak's kitchen for the recipe
" The 4 Velveteers* was started by Pamela, Aparna, Asha, and Alessio
, who are passionate about different cuisines
and food in general. Each month, we will attempt a new dish and share
our experiences and the recipes we used. If you're interested in
joining the Velveteers, please feel free to drop by our Google group
"4 VELVETEERS"
Do check out the creations of other velveteers
Gayatri's Rasgulla Amarkhand
Alessio's Milky SWEETNESS For a healthy Dessert