Vegetarian Dhansak
Hi
This month's 4 Velveteers challenge was from Asha. She suggested that we all make dhansak with own own interpration.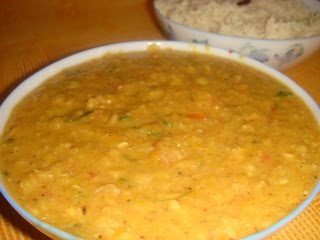 Dhansak is an authentic Parsi dish. I think the first time i heard about this dish was a long time back when Penaz Masani(singer) spoke about it On TV. This is one of their non-vegetarian dishes but i have tried to make it vegetarian. You can find different variations of this recipe in the blog world also on you tube:-)
INGREDIENTS
Pumpkin 200 gms
Red gram dhal 1/4 cup
Masoor dhal 1/4 cup
Green gram dhal 1/4 cup
Tamarind small marble sized, soaked in warm water
Onion 1 cut into small pieces
Tomato 1 cut finely
Methi leaves 2 tbsp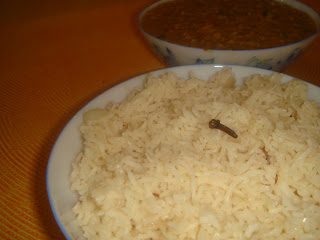 FOR THE MASALA PASTE
Red chillies 6
Coriander seeds 2 tsp
Cumin seeds 2 tsp
Cardamom 4
Cinnamon 1′ piece
Garlic 3-4 pods
Ginger 1/2 piece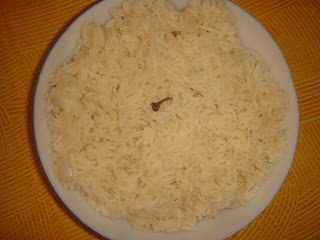 PREPARATION
Chop the pumpkin into cubes(not very small)
Cook all the dhal's together with the chopped pumpkins pieces until soft
Roast red chillies,coriander seeds, cumin seeds, cardamom, cinnamon in a tsp of oil till a good flavour comes out.
Grind this along with ginger and garlic into a smooth paste
Heat a pan with 2 tsp oil.
Fry the chopped onions till golden brown
Add the ground masala paste and fry for 2 minutes more.
Now add the cut tomatoes and methi leaves and fry till the tomatoes turn soft
Add the strained tamarind juice
Now add the cooked dhal-pumkin mixture
Add the necessary salt and let it boil for 10 minutes on a very medium flame
Serve warm with brown rice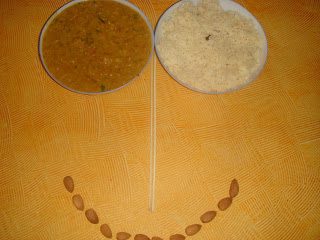 " The 4 Velveteers* was started by Pamela, Aparna, Asha, and Alessio
, who are passionate about different cuisines
and food in general. Each month, we will attempt a new dish and share
our experiences and the recipes we used. If you're interested in
joining the Velveteers, please feel free to drop by our Google group
"4 VELVETEERS"
Do check out the creations of other velveteers
Will update the list as and when the others post