Thinai Sakkarai Pongal / Foxtail Millet Sakkarai Pongal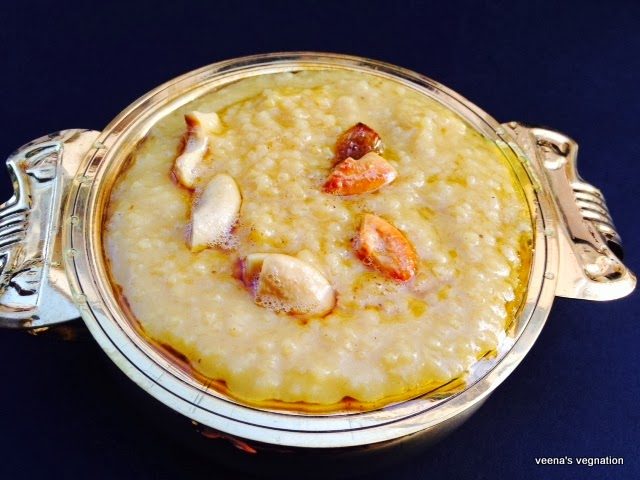 Sakkarai Pongal the traditional sweet is prepared particularly on pongal and many other festive occasions. This can be prepared with rice or millets. Having tried Barley sakkarai ppongal, I decided to try with foxtail millet and I did not repent for having tried this. I thinnk we should include millets in our regular diet.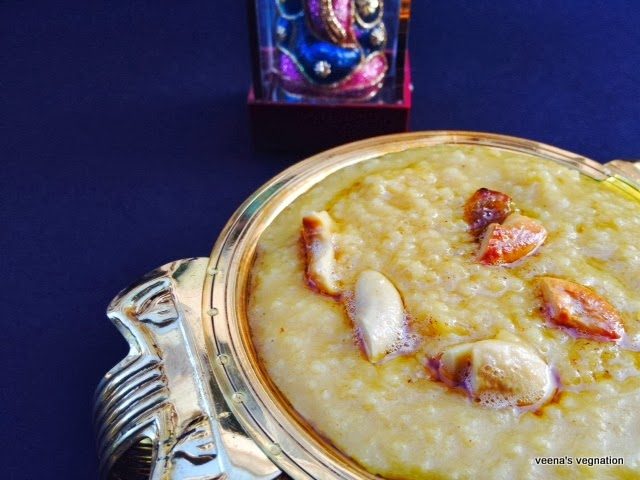 INGREDIENTS
Thinai 1/2 cup
Green gram dhal 1 Tbsp
Water 2 cups
Milk 3/4 cup
Jaggery 1/ 2 cups
Cardamom powder 1/2 tsp
Ghee 2 tbsp
Cashew few
Raisins few
PREPARATION
Cook the foxtail millet with the green gram dhal in a pressure cooker up to to 3
whistles. Take it off from the fire and allow it to cool down
You will see that it is not very mushy.
Now add the milk and cook in a very low flame for 5 minutes stirring every 2 minutes and this will become mushy.
Grate the jaggery and add water to make a syrup (the water level needs to be just above the level of jaggery)
Boil this syrup in a medium flame till it reaches a hard ball consistency
TO TEST THIS, ADD A SPOON OF SYRUP TO A
CUP OF WATER, IF IT DOES NOT DISSOLVE AND CAN BE FORMED INTO A BALL ,
IT HAS REACHED THE HARD BALL CONSISTENCY STAGE(THE BALL SHOULD NOT BE
SOFT WHEN TAKEN OUT OF WATER
Now sprinkle the cardamom powder and mix well.
At this stage add the cooked millet-dhal mixture and continue to cook in medium flame till the whole mixture begins to thicken.(Be
careful when you add the cooked millet dhal mixture into the hot boiling
syrup as it tends to splutter and might land on your tender fingers)
Add the ghee, mix and take it out from the fire.
Heat ghee is a small pan, saute the cashew and raisins till the cashew browns and pour this mixture on the prepared pongal
Check out the Blogging Marathon page for the other Blogging Marathoners doing BM#33
The other varieties of sakkarai pongal are
Sakkarai Pongal
Barley sakkarai pongal