Mani Kozhukatti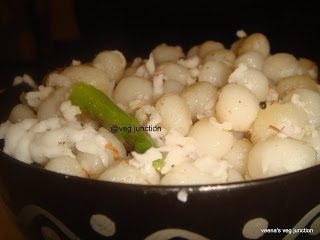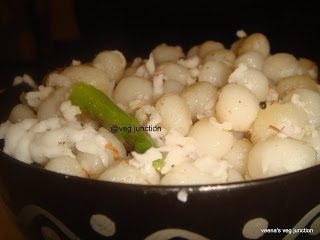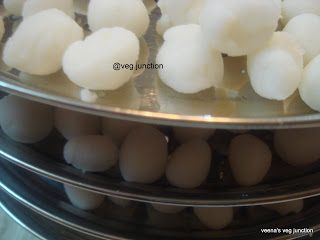 These small bead like kozhukattai make an amazing breakfast/or an evening snack.The very look of these small pearls will make you crave for more.Try this out and am sure you will love it.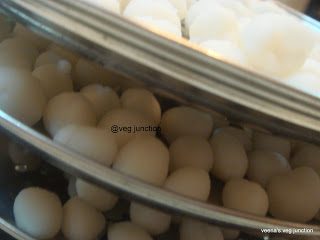 INGREDIENTS
Rice flour 1 cup
Water 1 cup
Salt 1/2 tsp
Oil 2 tsp
FOR GARNISHING
Oil 1 tbsp
Mustard seeds 1 tsp
Black gram dhal 2 tsp
Asafoetida 1 tsp
Green chillies 2 (chopped)
Black gram dhal 1 tsp
Grated fresh coconut 2-3 tbsp
Curry leaves few
Coriander 2 tbsp
PREPARATION
Take a microwave safe bowl. Add water, salt and oil to it. Close with a microwave safe lid and microwave it on HIGH for 2 minutes.
Remove the lid and add the rice flour and mix thoroughly without lumps.Close with the lid and again microwave it for 1minute in MEDIUM HIGH mode.
Take it out and see if all the moisture is absorbed or else cook for another 30 secs
I HAVE USED MICROWAVE COOKING FOR THIS PART. YOU CAN ALSO USE THE TRADITION WAY OF DOING THIS IN THE STOVE TOP MODE
Let it cool. sprinkle a little water and knead into a smooth dough.
Make small, tiny balls and keep aside.
You can steam them in the microwave itself or steam it in the stove top mode.I use the stove top method to steam and steam it till cooked(7-10 minutes)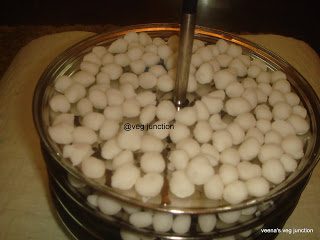 Take a frying pan add the oil, when it gets heated up add the mustard seeds. When it crackles add the black gram dhal,green chillies, asafoetida, curry leaves. Pour this on the steamed kozhukattai's. Garnish with the coriander leaves with a generous amount of grated fresh coconut. Taste and if necessary add extra salt.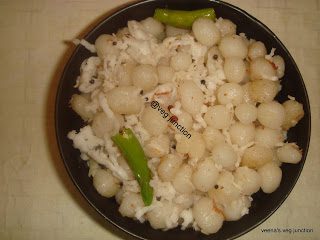 Now lets see the other creations by my fellow bloggers…
Srivalli, Priya suresh, Priya Vasu, Monika, PJ, ,Ayeesha,Soumya, Reva, Jayashree, Azeema