Matar Paneer Samosa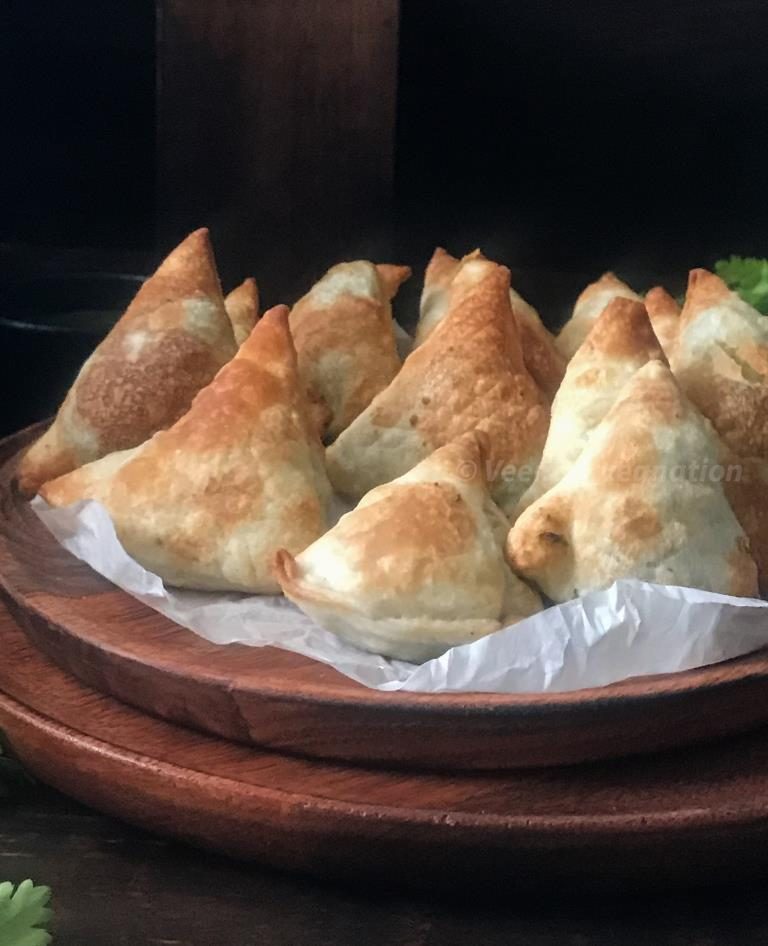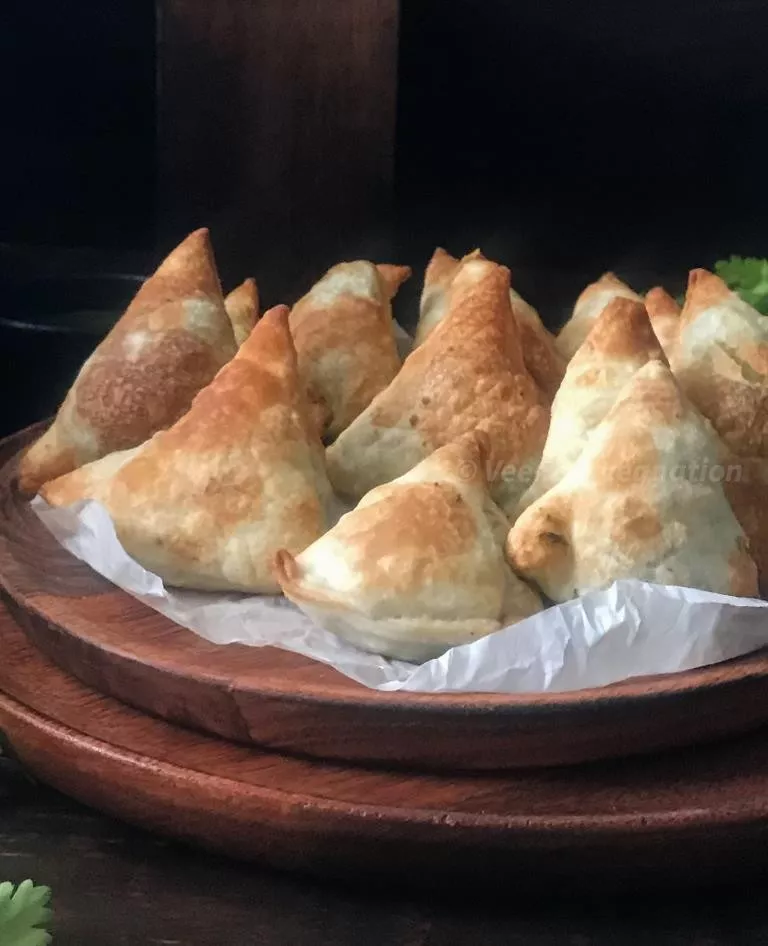 Samosa the snack most sought after especially in this rainy season. Yes, this year there has been copious rain all across our country. Chennai is already having its share of rains too. It is not common for Chennai to experience rains during this month. However, the rain god decided to have a look at us and we have pleasant rainy cool evenings. During these times, what we typically would want is a crunchy snack to much on and some hot coffee or chai to go with it. One such snack is the matar paneer samosa. We look forward to this matar paneer samosa in air fryer since it is low on oil. That makes us indulge us in it a little more. Perfect crunchy snack for the pleasant rainy evening.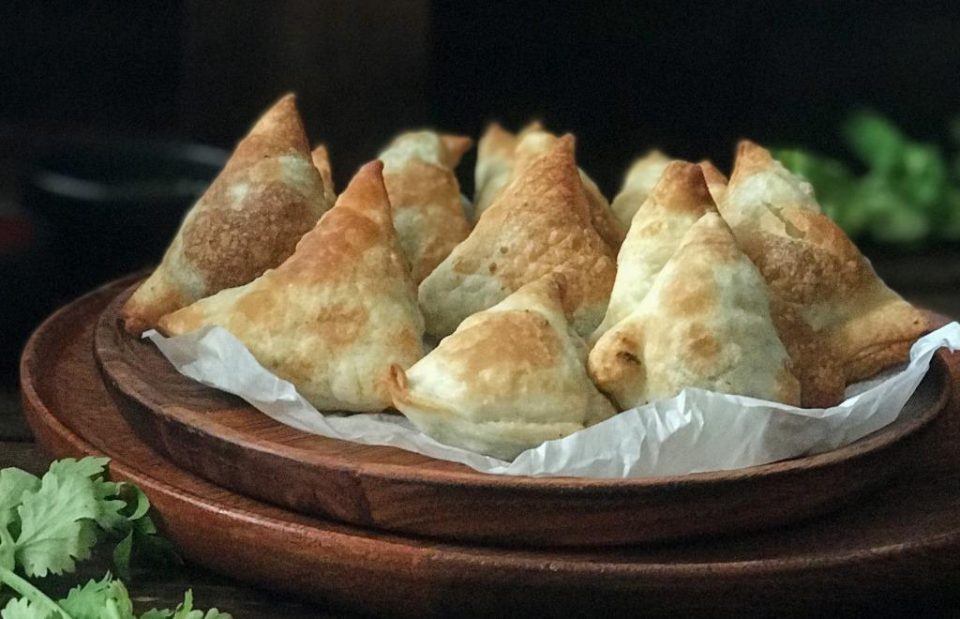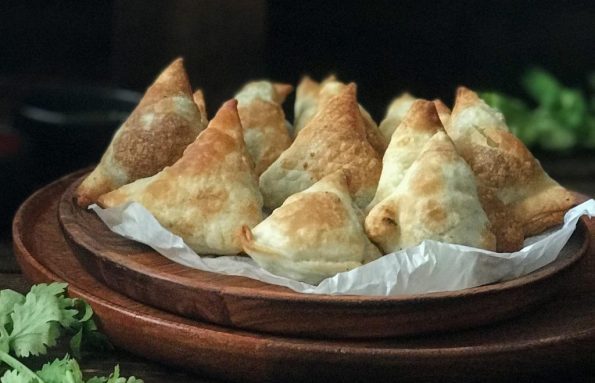 Filling for the matar paneer samosa:
As the name suggests the filling in this samosa is paneer to cottage cheese based. I have used homemade paneer here. Since green peas are in season I have used green peas or matar as well. To bring out a lovely green colour to the filling I have used fresh coriander and green chillies along with some garam masala for flavour. You can choose to make the regular aloo filling and air fry the samosa as is shown below.
Why do we need an air fryer to make samosa?
An air fryer is a gadget which works on the principle of hot air circulation. When we say air fry, it does not literally mean frying in the air. However, you can get a fried effect on the food. Here the food bets cooked or baked in the hot air. If we brush the food with a very little amount of air then we can get fairly fried food. In this matar paneer samosa, I have brush the samosas with very little oil before sir frying them. The result is beautiful air fried samosa and you will not miss the deep frying at all. Similarly we can make aloo tikki in an air fryer without the deep frying
Having said this, I must say that air fryer is not mandatory to make samosa. If you are not very conscious of the amount of oil being used, you can deep fry the samosas. If you own an oven then, the bakes samosas are equally tasty. So, you can make samosas in one of the three ways mentioned above.
Preparation of matar paneer samosa:
INGREDIENTS
Oil as required
For the outer covering
All purpose flour 3/4 cup
Oil 2tsp
Salt 1/4 tsp
Water just enough to knead
FOR THE FILLING
Fresh green peas 1/2 cup
Paneer 1/4 cup
Green chillies 1-2
Coriander 1tbsp
Ginger 1/4″ piece
Garam masala 1tsp
Cumin seeds 1/4 tsp
Salt to taste

PREPARATION:
Mix the oil, salt with the all purpose flour till it resembles like coarse grains
Now add little water and knead it into a stiff dough. Add water tsp by tsp. Keep this kneaded dough covered for some time.
Blanch the peas
Coarsely grind the peas with fresh coriander, chillies, ginger, paneer,garam masala and salt without any water and keep it aside
Pinch small balls from the dough and roll into thin chapatis.
Cut in the centre into 2 to make semi-circles
Now roll each semicircle into a cone.
Fill the cone with the stuffing and seal the opening too
Make all the samosas the same way
FOR DEEP FRYING THE SAMOSA
Keep sufficient oil in a deep frying pan
When it is sufficiently hot, fry the samosas in batches of 2. Do not overcrowd it
Once it starts to brown on one side, flip over and let it fry on the other side too
When both the sides have fried well, take it out on an absorbent paper for the excess oil to drain
Serve hot with green chutney or tomato ketchup!!
.
FOR AIR FRYING THE SAMOSA
Preheat the air fryer at 200C for 5 minutes
Brush the basket of the air fryer with little oil
Brush the surface of the samosa with some oil and arrange it on the basket
Air fry them for 8 minutes
serve warm with a chutney of your choice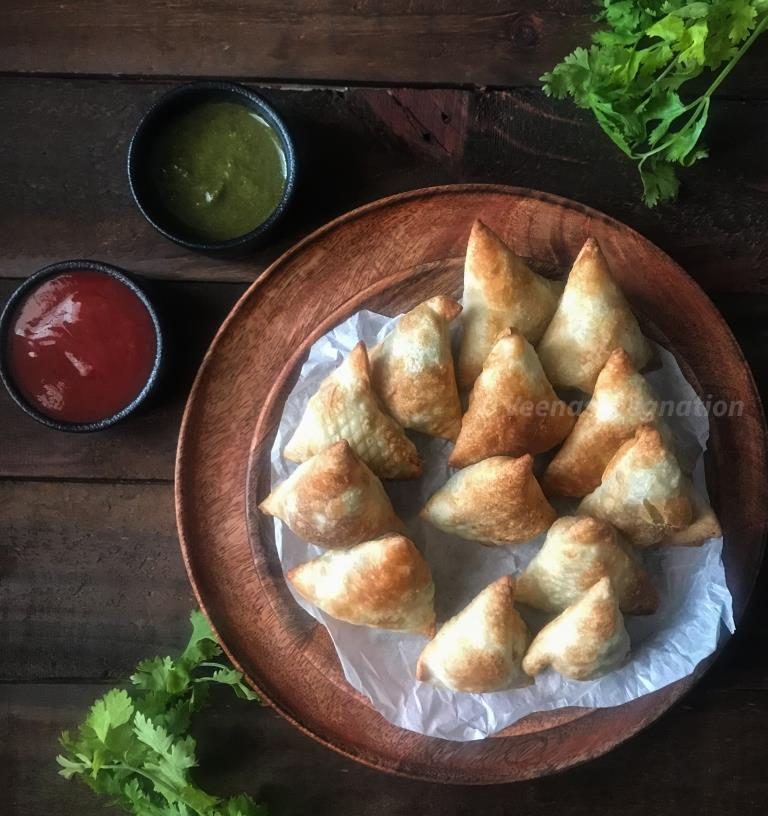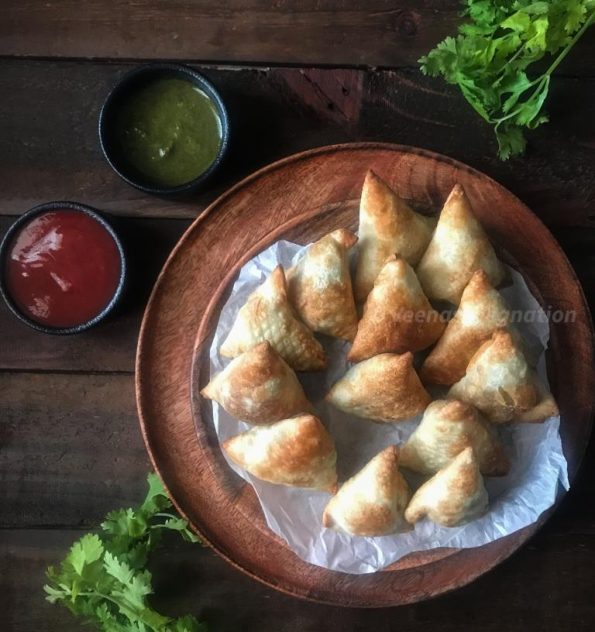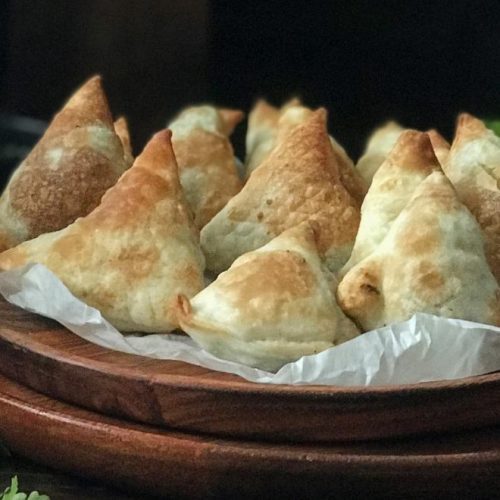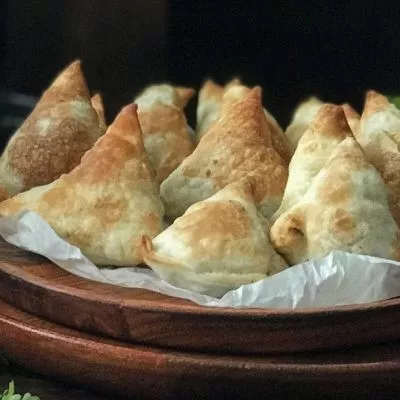 Matar paneer samosa
Matar paneer samosa is a perfect snack for a rainy day and when it is cooked in an air fryer it is very. crispy and healthy too
Ingredients
FOR THE OUTER COVERING
3/4

cup

All purpose flour

2

tsp

Oil

1/4

tsp

Salt

As

Required

Water
FOR THE FILLING
1/2

Cup

Fresh green peas

1/4

Cup

Paneer

2

Green chillies

1

tbsp

Fresh corinader

1/4"

Ginger

1

tsp

Garam masala

1/4

tsp

Cuin seeds

To Taste

Salt
Instructions
FOR THE OUTER COVERING
Mix the oil, salt with the all purpose flour till it resembles like coarse grains

Now add little water and knead it into a stiff dough. Add water tsp by tsp. Keep this kneaded dough covered for some time.
FOR THE FILLING
Blanch the peas

Coarsely grind the peas with fresh coriander, chillies, ginger, paneer,garam masala and salt without any water and keep it aside

Pinch small balls from the dough and roll into thin chapatis.

Cut in the centre into 2 to make semi-circles

Now roll each semicircle into a cone.

Fill the cone with the stuffing and seal the opening too

Make all the samosas the same way

FOR AIR FRYING THE SAMOSA

Preheat the air fryer at 200C for 5 minutes

Brush the basket of the air fryer with little oil

Brush the surface of the samosa with some oil and arrange it on the basket

Air fry them for 8 minutes

serve warm with a chutney of your choice
Nutrition
Calories:
267
kcal
Carbohydrates:
30
g
Protein:
7
g
Fat:
13
g
Saturated Fat:
3
g
Cholesterol:
12
mg
Sodium:
300
mg
Potassium:
92
mg
Fiber:
3
g
Sugar:
2
g
Vitamin A:
185
IU
Vitamin C:
13
mg
Calcium:
101
mg
Iron:
2
mg