Palak Chapathi With Capsicum Brinjal curry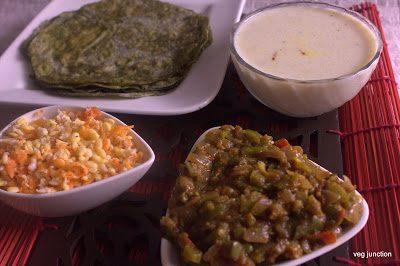 When Srivalli Announced the Blogging Marathon for this month, I chose to go with the theme"Lunch box ideas".I am not sure how many of you face this difficulty, that I do…..Menu for the day?????Planning a healthy and a filling lunch box menu is difficult at 4A.M….well, don't ask me why i don't do it the previous day???????Bad Habit:-(….It is ever more difficult when two people do not like the same veggies>>>Well…Today my mom came to my rescue and suggested the menu.!!!!!!Thanks mom ….The menu for today's lunch box is Palak chapathi with Brinjal capsicum curry, Kosambiri and Aval payasam(Happens to be my dad's Birthday)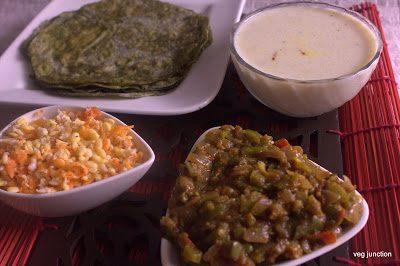 PALAK CHAPATHI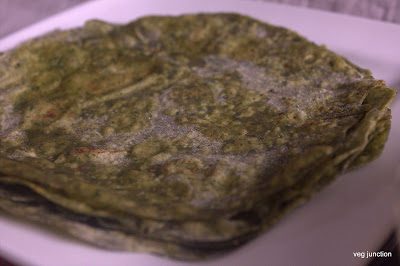 INGREDIENTS
Palak/Spinach 2 bunches
Cumin seeds 1/2 tsp
Whole wheat flour 1 cup
Chilli powder 1/2 tsp
Garam Masala 1/2 tsp
Salt to taste
Oil 2 tsp
PREPARATION
Wash and chop the palak leaves.
Heat a pan with 1 tsp oil.
Add cumin seeds and when they start to sizzle add the cut palak leaves.Saute it for 3-4 minutes and keep covered for it to cook. When done. let it cool . Transfer this to a blender and blend it into a smooth puree
Now take the flour in a wide plate. Add salt, chilli powder, garam masala to it. Mix well. Now add the puree and mix it to form a dough. Now add a tsp of oil and knead it into a smooth dough. Cover it and let it rest for 45 minutes.
Heat a chapathi Girdle/ Tawa.
Pinch a small ball of the dough. Dust it with the whole wheat flour and roll it into a thin circle
Place it on a hot tawa. Cook it till bubbles start appearing on one side.Now flip it over to cook on the other side too. Drizzle little oil around it , flip it again. Remove it from the tawa. Let it cool.
Make all the chapathi's the same way.
When it has cooled, you can sore them in a container.
BRINJAL CAPSICUM CURRY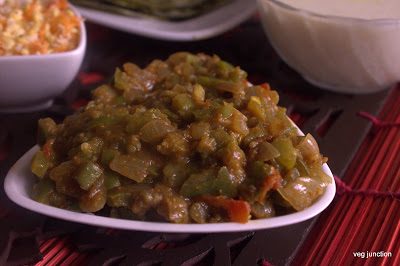 INGREDIENTS
Onion 2
Capsicum 2
Green Brinjal 5
Tomato 2
Turmeric powder 1/4 tsp
Chilli powder 1/2 tsp
Vangibath powder 2tbsp
Cumin seeds 1/2 tsp
Salt to taste
Oil 1tsp
PREPARATION
Chop all the vegetables finely and nearly the same size
Heat oil in a pan. When it is sufficiently heated up add the cumin seeds.
Now add the chopped onion and saute it till it turns transparent.
Now add the chopped brinjal and mix well. Add turmeric and again mix it. Now sprinkles few drops of water, mix and close it with a lid and cook it in medium flame for 5 minutes.
When it starts to become a little mushy add the cut capsicum and mix well. Let it cook for 3 minutes. Add cut tomatoes and a little water along with the required salt. Continue to cook for another five minutes in medium flame . Now add the vangibath masala powder. Mix well. Cook for 2 more minutes. switch off the stove.
Serve this yummy curry with a bread of your choice
So this was the sumptuous lunch that I packed for my family and they loved it
Plak chapathi
Brinjal capsicum curry
Kosambiri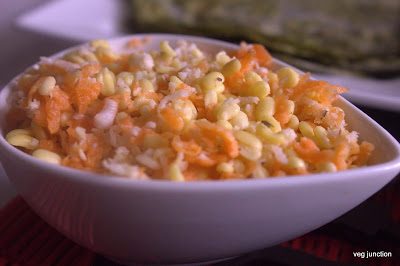 Aval payasam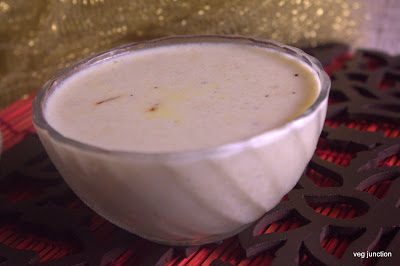 Hop on to see what bloggers are blogging about for this marathon HERE