Spicy corn curry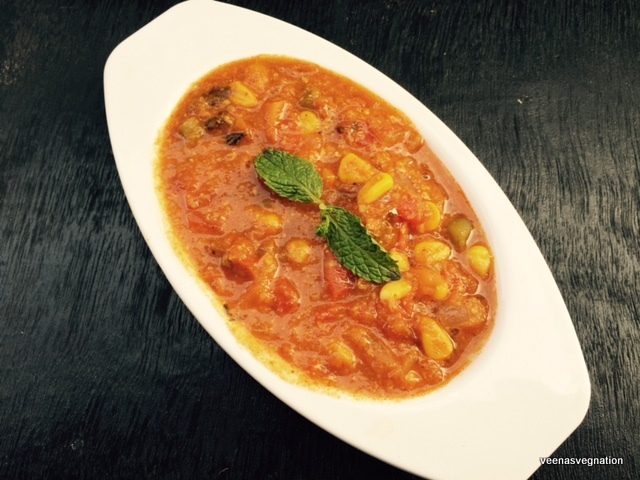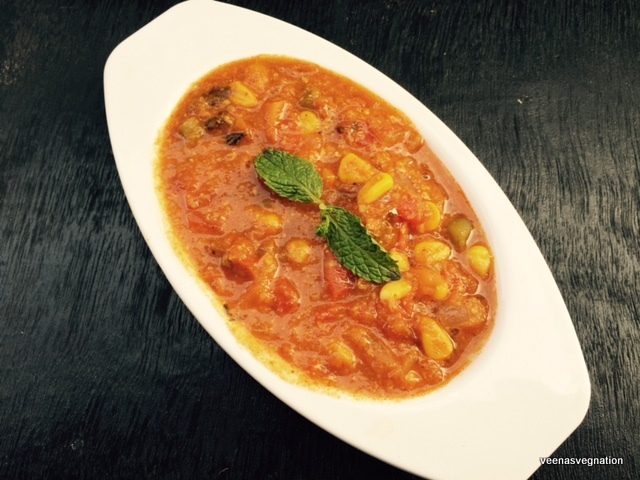 Hi
The second recipe from Pavani's blog is this
delicious sweet corn curry. I loved the colour of the gravy and as usual her
clicks are awesome too. I liked the fact that the thickness of this gravy is
due to the ground sweetcorn paste. Addition of this paste gives a nice texture
and taste too. Since I had only the frozen corn, I cooked it even for the paste
INGREDIENTS
Sweet
corn

1
cup

Cumin
seeds

1tsp

Carrot

1

Beans

8

Onion

1

Tomato

2

Tomato
Puree

2
tbsp

Ginger
garlic paste

1tsp

Daniya
powder

1tsp

Jeera
powder

1tsp

Garam
Masala

1tsp

Turmeric
powder

A
pinch

Chilli
powder

1tsp

Oil

1tbsp

Salt

To
taste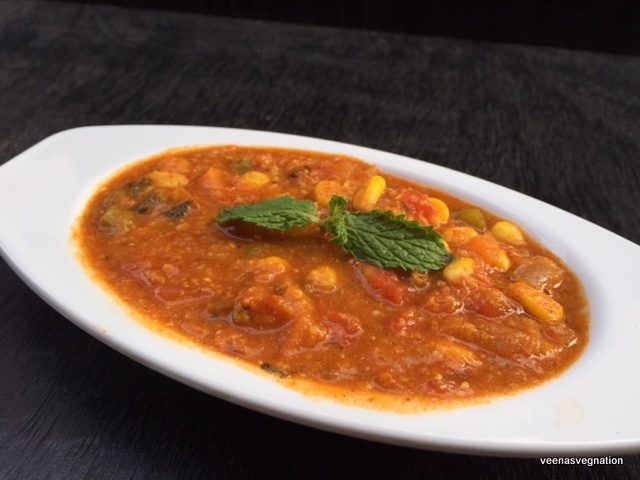 PREPARATION
Cut all the vegetables into small cubes
Parboil the carrots and beans. Keep aside
Cook the corn kernels till soft
Grind half of the corn into a smooth paste
Heat oil in a pan, and add the cumin seeds.
When it starts to sizzle add the cut onions and
saute till it is transparent.
Now add the ginger garlic paste and saute for a minute
Now add the cut tomatoes and cook till it becomes
mushy.
Add the tomato paste, turmeric powder, chilli
powder, daniya powder, Jeera powder and salt,
Mix well and cook for 2 minutes
Now add the corn paste, vegetables and the remaining
corn. Mix well.
Add garam masala, mix well and let it boil for some
time till everything comes together.