Jowar Dosa / Jolada dosai / Shorgum Pancake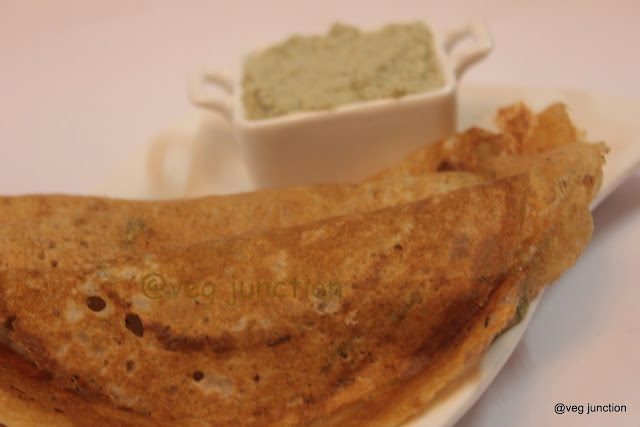 Hi
I hail from karnataka and Jowar/Sorghum is one of the staple grains grown there. Jowar is known for its nutritive properties such as a high vitamin B source and non glutenous .I have heard some reports that say that Jowar/Sorgham is good for diabetics too.Since it is a good source of Vitamin B,,I try to cook it often at home. Sometimes when my mom is around she helps me to make Jollada Roti(Yes..I can't do it the way she does:-( )When she is not around for my guidance it is in this form that I try to incorporate all the goodness of Jowar into our menu
INGREDIENTS
Jowar flour 1 cup
Black gram dhal/ urad dhal 1/4 cup
Onion 1
Green chiliies 2
Grated coconut 2 tbsp(optional)
Coriander 2 tbsp
Salt to taste
Oil
PREPARATION
Soak the blackgram dhal in water for 3 hrs
Grind it into a smooth batter.
Cut the onion, chillies, coriander finely
Mix jowar flour, dhal paste, chillies, onion ,coriander and salt adding more water if necessary to form a batter of dropping consistency
Heat and grease a non-stick tava with oil.
Pour a ladleful of the batter on the tava and spread it using a circular motion, to make a thin dosai, keeping it in very low flame
Drizzle a little oil on the sides and cook.
When the lower side turns a little brown. turn over and cook on the other side
Repeat with the remaining batter to make those dosas
Serve hot!!!!!
If you are wondering whether this dosa will be as crisp as the one which we usually make with rice……I think this picture speaks for itself!!!!!
Check out the Blogging Marathon page for the other Blogging Marathoners doing BM#14