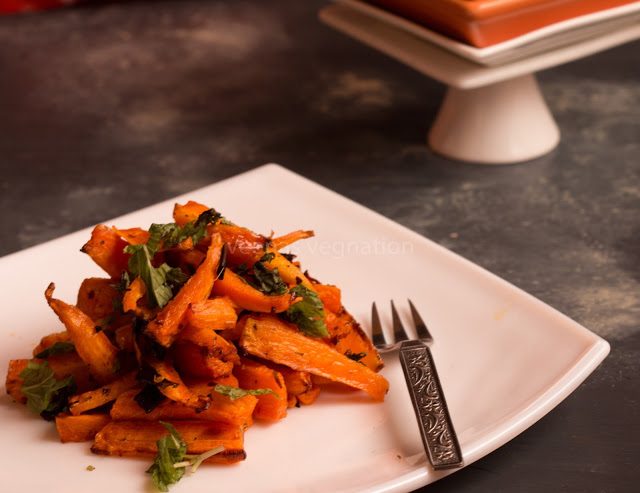 Being on a paleo diet for a vegetarian is a little
difficult. So we need to keep trying out the available vegetables and fruits in
different combination to have a good meal with the required nourishment.
Carrots in moderation are good to be eaten in paleo and honey is said to be
used very occasionally and minimally. Here is a very easy way to make your
lunch wholesome and delicious too.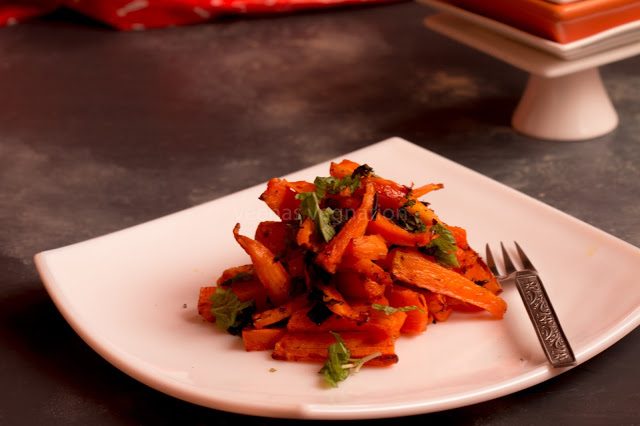 INGREDIENTS
Carrots

6

Chilli
Flakes

2
tsp

Honey

2tsp

Garlic
powder/Crushed garlic

1
tsp

Ghee/Coconut
oil

2tsp

Mint/Coriander

1tbsp

Salt

To
taste
PREPARATION
Peel the skin of the carrots and cut it into thin long
pieces
Mix honey, chilli flakes, garlic, salt and ghee in a
bowl
Toss the carrots into it and mix well and make sure
the carrots are uniformly coated
Preheat the air fryer at 200C for 5 minutes
Transfer the prepared carrot to the basket and bake
for 5 minutes
Now sprinkle the mint /Coriander and mix well
Bake for another 1 minutes
Transfer it to a serving bowl and serve warm
Perfect delicious paleo meal ready
NOTE: YOU CAN COOK THE SAME RECIPE IN AN OVEN AND IF YOU DO NOT HAVE THAT , THEN COOK IT IN STOVE TOP TOO.
METHOD:
TO COOK ON STOVE TOP
Transfer all the contents to a kadai , close it with a lid and cook till the carrots are cooked . Occasionally sprinkle some water to help it cook and keep turning it continuously so that it does not burn.
TO COOK IN AN OVEN
Preheat the oven to 200C
Line the baking tray with a baking sheet
Transfer the contents to the baking tray and spread uniformly
Bake for 10 minutes
serve warm
Enjoy your paleo meal and best wishes for a healthier YOU